Heat Wave Update: Michiana under a Heat Advisory
Posted:
Jul 18, 2016 8:37 PM EDT |
Updated:
Jul 20, 2016 10:14 PM EDT
Wednesday Update: The heat was will begin Thursday as the humidity soars and the heat index will reach hazardous levels Thursday and Saturday. A heat advisory has been posted for the entire area Thursday afternoon through Saturday evening.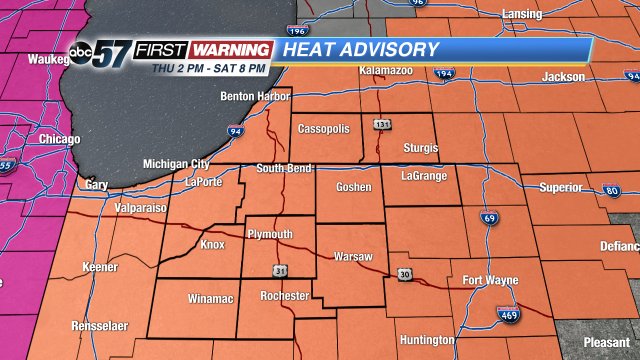 The heat index Thursday will be near 100 and Friday, the hottest day will have a heat index ranging from 100 to 105. Heat alerts could be extended through the weekend as highs stay in the 90s.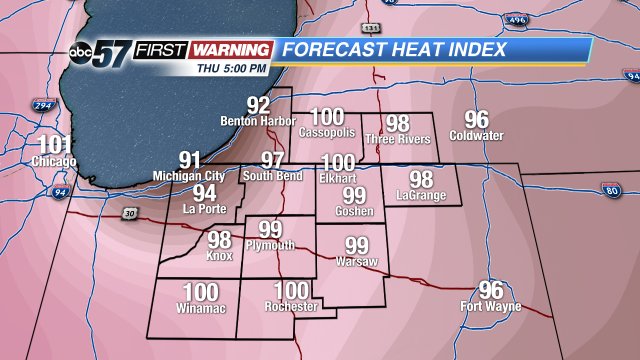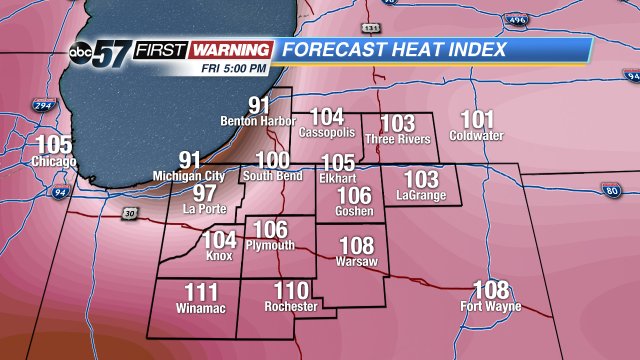 Tuesday UPDATE: Little has changed in the impending hot and humid forecast. The one major change is the heat wave will last a day longer. The 90s will now last through Sunday. This is a factor that could change depending on the arrival of a cold front and the possibility of storms. However, latest trends now shift for a later arrival of cooler temperatures.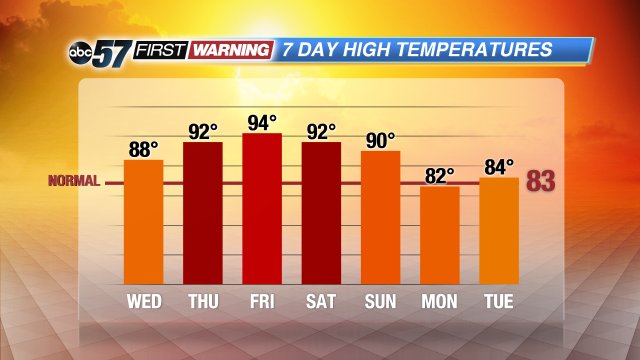 The four day heat wave will peak Friday, when the heat index will rise well over 100. This could be dangerously hot for those most susceptible to extreme heat. The heat index through Sunday will be around 100-105.
Monday
The hottest stretch of weather in three years arrives by the end of the week. Highs will warm well into the 90s with a heat index above 100 degrees. A heat wave ( for our region) is three days or more of 90 degree weather. We haven't seen a stretch of heat like this since July 2013.
A dome of heat will build out of the central plains, accompanied with a surge of gulf humidity. These two factors will combine for sweltering conditions that will peak Friday, but last through most the weekend.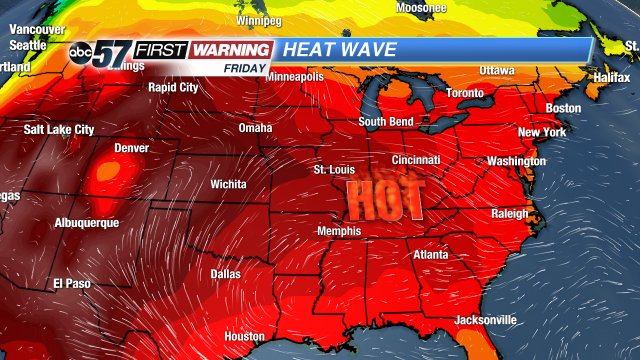 This will likely be the highest humidity the region has seen this year. We've seen dewpoints in the low 70s but Friday we could see them reach into the mid 70s. A mark that's more indicative to the Gulf Coast than Midwest.
The heat will peak Friday, the most sweltering day with highs in the mid 90s. The heat index over this stretch is the big concern to health. It will not only be hot during the day but it won't cool off at night. Lows will be in the mid to lower 70s. If you do not have air conditioning this is a time to think about taking the most precautions to mitigate this stretch of hot weather. Luckily it will not last into next week.