Lake effect snow wrap-up.
Posted:
Feb 8, 2016 8:16 PM EST |
Updated:
Feb 11, 2016 3:54 PM EST
UPDATE: 2 PM THUR 2/11: This round of lake effect snow has ended. There's a brief lull between events as the next round of snow hits Friday evening and lasting through Saturday. Temperatures will drop into the teens and single digits this weekend. A new blog will be started for that event. Recapping the snow since Monday, the initial forecast preformed very well.

(Below) Left is the 60 Hour Forecast we issued Monday. Right is the 3 Day Accumulation based on reports from the National Weather Service. The farther away from the lake to the southeast the greater the error was. This is typical in lake effect events as it's more questionable if lake effect bands will make it farther inland. Overall if we had to rate this forecast from one to ten, with ten being perfect I'd give it a 9.5.
UPDATE: 4 PM WED 2/10: Lake effect snow continues overnight, through Thursday morning. An additional 1"-3" of snow is likely north of U.S.- 6 with possibly 2"-4" additional inches north of the Toll Road. This round of lake effect snow will taper-off Thursday afternoon. That's not the end however, as more snow and cold are in store for the weekend.
Snow Totals: Observed snow totals are verifying with the forecast. Many locations saw over six inches in the past 24 hours and two day totals are starting to top eight inches. Here at ABC-57 News our two day total is at almost 9 inches.
Contoured map of approximate accumulation since Monday.

UPDATE: Midnight WED 2/10: A heavy band of lake effect snow from Berrien Springs to Edwardsburg to Simonton Lake to Bristol is producing snowfall of 1"-2" per hour. Heavy accumulation and high impacts in this area overnight, especially. Overnight totals could easily top 6". Lake effect bands will stay persistent overnight as temperatures settle into the mid teens by morning.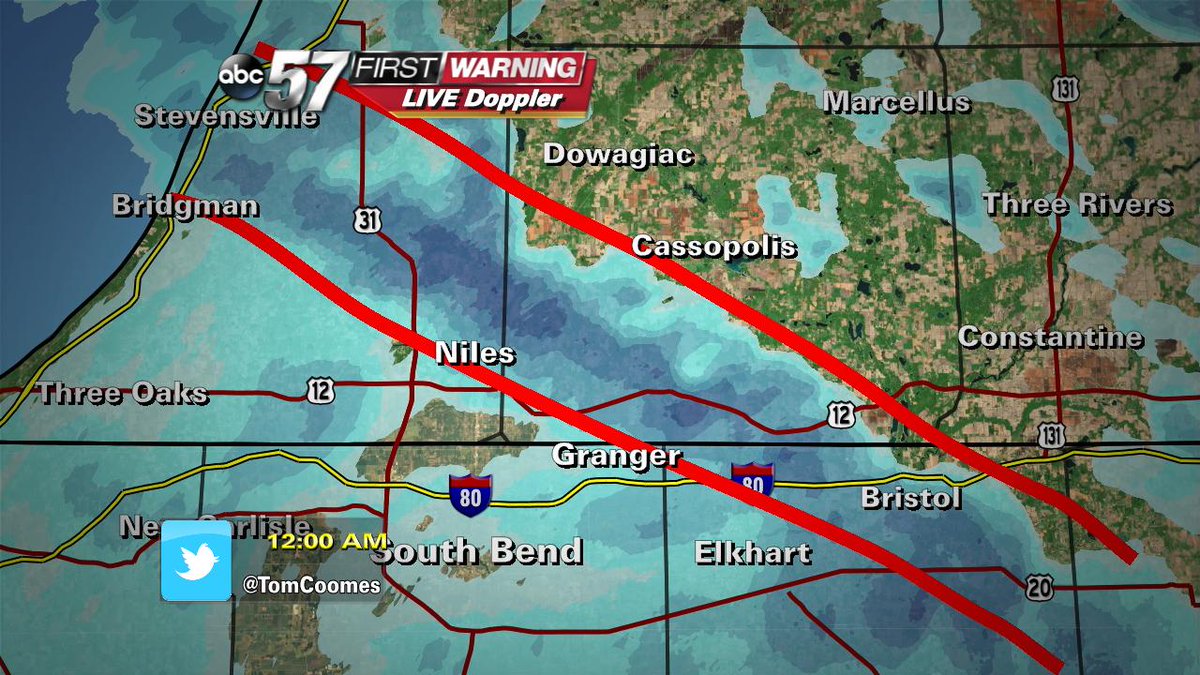 UPDATE 4PM TUE 2/9: As temperatures drop into the teens tonight, lake effect bands will intensify. An additional 1"-3" is likely tonight and another 1"-3" during the day Wednesday. The key message is this snow will not come all at once. Below is the breakdown snowfall for the next 12 and 24 hours. The running total 60 hr forecast (scroll down) through Thursday morning remains unchanged.
A Winter Weather Advisory continues through Thursday morning as snowfall will be nearly continuous, causing slick winter driving conditions. Wind gusts will top 20 mph and the wind chill will be near zero through Thursday.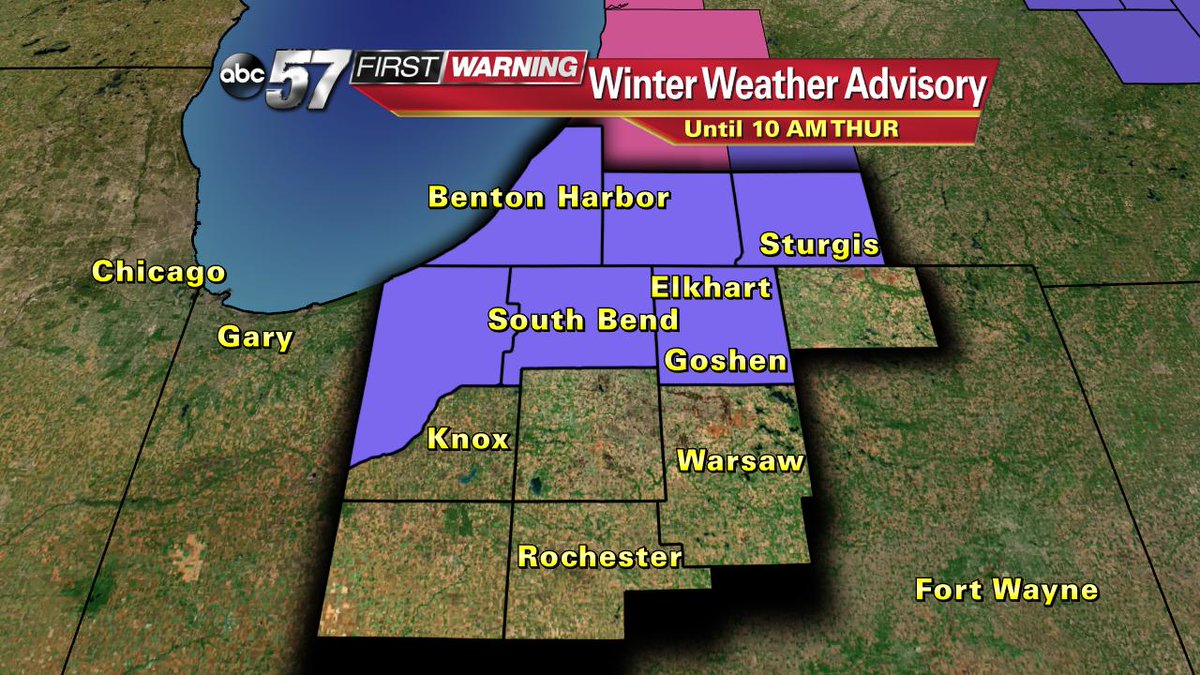 Winter weather is back. An arctic blast is dropping temperatures across Michiana and turning on the lake effect snow machine. The key to the forecast is not to focus entirely on final totals but breaking it down day by day and hour by hour. This event will last through Thursday morning.
The quick summary is lake effect snow will be persistent, especially along and north of U.S.-20. The steady snowfall will bring 1"-3" of snow every 12 hours to most the area.
Here's the breakdown on snowfall, starting with Tuesday morning (12 Hours), running snowfall totals through Thursday morning (60hrs).
The greatest snow impact will be from South Bend, north and west into LaPorte, Berrien and parts of Cass counties. The biggest impact will be constant winter driving conditions for over 48 hours.
Temperatures will be below normal for the next seven days. Most of this week, temperatures will struggle to break 20 degrees. Overnight lows will be in the teens and single digits. Click here for the 10-day forecast.
Wind will also hamper driving and make it feel colder. Wind chill values will be in the single digits to below zero. Gusts could top 25mph.
Follow our First Warning Neighborhood Weather Facebook page and @TomCoomes on twitter for more frequent updates. Share your photos and reports.